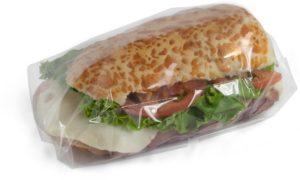 Among the restaurant choices in Terminal 5 at Heathrow Airport, the restaurant chain Pret A Manger (French for 'ready to eat') seems to offer upscale fresh fast food to eat while waiting for one's connecting flight.  Being a corporation based in the United Kingdom with most of its ~530 stores located there, some of us would have the image that the British culture of correctness would carry over into this company's workplace culture for preparing the food so that nothing serious could go wrong.  However, a news story appeared on September 28th that a 15 year-old girl with sesame allergy bought a sandwich from the Terminal 5 Pret A Manger location and died two hours later, despite two EpiPens being used, from an anaphylactic reaction during the airplane flight.  The description of the events on board is heart-wrenching to read.
Although the teenage girl's death occurred in July 2016, the inquest at the London coroner's court ended one month ago.  The coroner concluded that no EU or UK law was broken.  However, the labeling was found to have been inadequate because it did not warn of sesame seeds baked into the dough of the baguette.  Apparently, food regulations in 2016 only required labelling of food allergens if the food product was already packaged before it arrived at the store.  There was no requirement in the regulations to individually label a food item if the food item was made on the premises.
Nine days later, Pret A Manger announced that a second customer with food allergy died in 2016 from an allergic reaction to their 'super-veg rainbow flatbread.' The customer was allergic to milk and the company believes the death resulted from dairy protein found in a nondairy yogurt ingredient supplied by a British maker of vegan products.
If these were not enough in England, the New York Times reported four days ago that the owner and the deliveryman of a carry-out restaurant in northern England were both found guilty of manslaughter in the January 2017 death of a teenage girl with peanut allergy.  They had delivered food containing "widespread" peanut protein, despite her friend warning in the food order about not using peanut.  The judge told the men to expect jail time as their sentence.
Responses to these events have come not just from the company, and not just from the UK Government, but also here from the FDA.  Pret A Manger said on October 3rd that it would start to put allergen warning stickers on all individual freshly made products and to put full ingredient information online and in stores over the coming weeks.  The British secretary of state for environment, food and rural affairs met about two weeks ago with the parents of the girl who died from sesame allergy; he pledged to change allergen labelling rules. And two days ago, the FDA announced a 60-day period until December 31st for clinicians and scientists to submit clinical information about sesame allergy in the U.S. as the first step for considering labeling for sesame.
I had planned at the beginning of this month to write only about the 15 year-old girl's death from sesame allergy in order to highlight its significance. The prevalence of sesame allergy varies across the world.  Sesame is reported to be responsible for 2.8% of cases of food anaphylaxis in Canada, but is the 3rd most common cause in Saudi Arabia and the 2nd most common cause in Israel.  I have no doubt that the media reports of the British girl's death accelerated the concern here about sesame allergy.  The FDA acknowledged in its notice about the 60-day comment period that a 2014 petition from medical professionals, two consumer advocacy groups and a public policy organization had requested inclusion of sesame with the other eight food allergens on product labels.  A keyboard can, at times, truly be mightier than the sword (a paraphrase of the quote from the 19th century English playwright Edward Bulwer-Lytton, for those who always wondered where this quote came from).
There's more, though, from these recent reports than just getting the FDA to add sesame to the required list of food allergens on labels. They highlight the measures that food-allergic patients must take when eating products from restaurants or grocery stores.  The organization FARE (Food Allergy Research & Education) has a list of tips for eating out on its website www.foodallergy.org.  I would add that, when possible, a friend or family member without the specific food allergy should taste-test the food product beforehand. This may seem socially awkward. Unfortunately, food-allergic patients cannot rely on perfect timing of a journalist's decision to write an article, or on rapid speed of governments, or on restaurants being 100% attentive and infallible.  Human beings are fallible.  We all have to accept this, and be open to accepting each other's observations and ideas if we are to avoid unintended serious and fatal consequences.
Dr. Klein